Events / Community Corner
S.V.I.A. Hall is open
Effective June 26th, Schorsch Village Hall was opened
following the City of Chicago Coronavirus guidelines.
Tables are six feet apart with no more than 10 people per
table. Social distancing and face masks are encouraged.
The hall is sanitized before each function. Attendance is
limited to 72 attendees at any one time. Coming and
going of attendees is acceptable as long as the maximum
at any one time doesn't exceed 72.
For information on hall rentals please stop by the hall at
6940 W. Belmont on Saturdays or Sundays
from 10:00 AM to 10:30 AM.
===============================================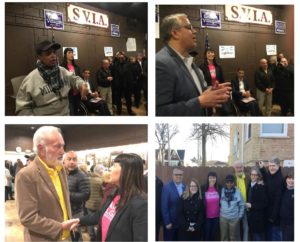 Upper Left Mayor Lightfoot addressing the rally
Bottom Left Executive Director Ed Gjertsen with Representative Delgado
Upper Right Alderman Villegas speaking to crowd Bottom Right SVIA Board Members with Mayor Lightfoot, Alderman Villegas, and Representative Delgado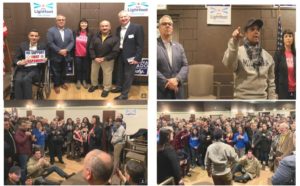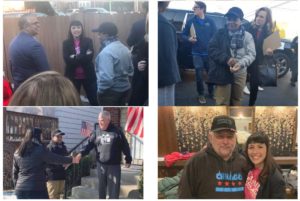 ===============================================
Events
===============================================
Schorsch Village will be having it's front yard sale
on Friday, Sept. 11 and Saturday, Sept. 12 from 9am to 4pm.
All Schorsch residents are welcome to attend or be a seller at
their own home. Sellers are required by the city to get a permit
at the alderman's office at 6943 W. Diversey.
Please put up your own signs and follow the rules stated on the permit.
if you have any question, email Cathy at cgraham025@gmail.com.
SVIA Annual Golf Outing & Sep Party
Sunday, September 13, 2020
Schorsch Village will be holding its annual golf outing on
Sunday, September 13th at Indian Boundary Golf Course,
8600 W. Forest Preserve Drive in Chicago. It will be a
Noon Shotgun Scramble as in the past. A $2,500 prize for
a hole-in-one on a designated par three, closest to the pin
and long drive prizes will also be awarded as well as low
gross prizes for the top three teams. The hall will open at
4:00 PM so you can go directly there after you finish.
Waiting for you will be hors d'oeuvres and cash bar. Soft
drinks $1.00 Beer and Wine $2.00 and mixed drinks
$3.00. A great dinner will be served about 6:00 PM. Cost
for golf, cart and after party will remain at $65.00/golfer.
The cost for those wanting to attend just the after party
will be $12.00/person.
For additional information/reservations contact
Ed Gjertsen at vpdc@att.net or 773-286-4302.
===============================================
BINGO & PIZZA for October Party.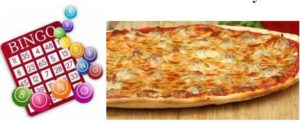 Join your neighbors and friends for evening of laughs,
pizza and fun.
Where: 6940 W. Belmont
When: Saturday, October 10, 2020
Doors open @ 6:00 pm, Dinner 6:30, BINGO 7:00
Suggested donation is $15.00 a person for bingo,
pizza, soda, and cash bar.
Prizes will be determined by the amount of people
participating in bingo.
This is an adult only event.
===============================================
Community News:
Garrido Stray Rescue Foundation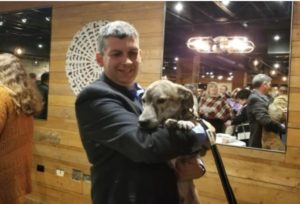 The snapshot was taken at Biagio's on Central in
Chicago on February 27th. This evening's event was
a fundraiser to raise money for stray animals that
are found on the North West side of Chicago.
John Garrido (pictured) heads the foundation and
along with his wife and the help of many volunteers
are able to treat, save, and place many dogs.
Schorsch Village Improvement Association was
proud to donate $200. from our annual golf outing
proceeds. Please follow him on Facebook at
Garrido Stray Rescue Foundation.
===============================================
Children's Face Masks (S – M – L)

Comfortable, adjustable, washable cotton masks.
Contact Monika at 773-332-0560
===============================================
====================================================
Volunteers Needed
Schorsch Village, named the 24th best community in the country by Redfin Realty, is looking for volunteers to assist with
several tasks needed by the Association:
Newsletter Distribution - Door-to-Door covering two block area - about 1 hour every other month
Website Maintenance - Updating SVIA's website – about 1-2 hours per month
Newsletter Development - Familiarity with publishing software- about 2-3 hours every other month
If interested in any of the above please contact: Ed Gjertsen, Executive Director, 773-286-4302 ===============================================================================
Men's Club meets second Wednesday of every month.
A group of your male neighbors and friends get together to
enjoy a home cooked meal, play indoor bags and cards.
Each month a few of the members chef it up for the group.
Doors open at 6:00 pm. A suggested donation of $15
includes dinner and drinks. Come out and play. Next
meetings are Sept 9th and Oct 14th
Senior Ladies:
Senior Ladies meet and play cards the second and fourth
Thursday of the month. Doors open at 10:00 am.
Upcoming meetings are Sept. 10th, Sept. 24th , Oct. 8th, Oct 22nd
Save the date:
Help us plan events you are interested in:
We have many different events throughout the year.
We are looking for your input. Would you like to have
another Paint-N-Sip? Are you interested in having a
night of dancing with live music, what about the Antique
Road Show?  What about a Casino Night?
Send us your ideas to Schorschvillage@gmail.com
Advertise in the Informer
If you would like to advertise in the informer newsletter, please contact
April Kibler at 773-972-2344.
SLOW DOWN SIGNS
The 38th WARD SLOW DOWN SIGNS ARE NOW AVAILABLE!! The weather is warming up and schools
will be letting out for summer vacation, which means more kids playing and riding bikes all around the
neighborhoods. As a community let's remind driver's to SLOW DOWN for the safety of all pedestrians. Stop in the
38th Ward Office 3821 N. Harlem Ave. and get your FREE sign!
City of Chicago Jobs
You can search for city job opportunities and apply for one or multiple positions using a single online profile. CAREERS
is available 24/7 and allows users to search for employment with the City of Chicago, review job announcements,
complete a candidate profile, and apply for open positions - all without a single sheet of paper!
For more information and to apply for jobs with the City of Chicago go to www.chicago.gov and click on I Want To
Apply on the bottom right hand corner of the page.